The Perfect Wedding Cake
Choosing the right wedding cake to represent your union and please all your guests is one of the most important steps you'll take in the planning of your wedding. But there's more to finding the perfect wedding cake than you might think! Follow our tips to make your search for the most elegant wedding cake much easier!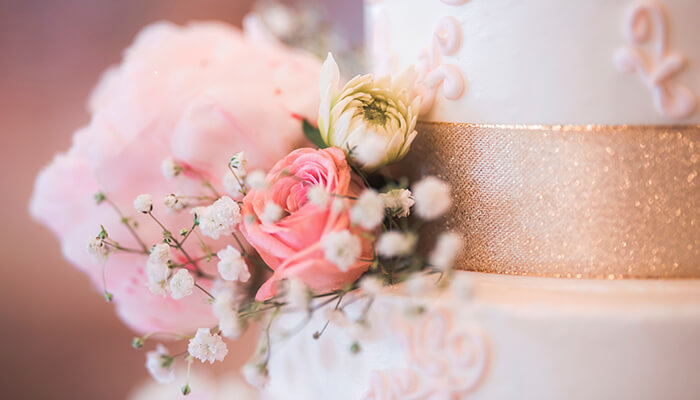 An elegant wedding cake is one of the most important and romantic facets of the perfectly crafted wedding.
You'll want to begin by doing some research. This can be fun! Pick up a few wedding magazines and flip through their pages to see examples of wedding cakes. There are so many different styles and themes. If you're having a large wedding you'll of course need a larger multi-tiered wedding cake. If it's just a small intimate get-together, you can go with a smaller style.
Think about the colors of your wedding. You'll want the cake decor to harmonize with the color scheme that you've chosen, from the bouquets to the bridesmaids dresses to the centerpieces. If your cake will incorporate real flowers, those will need to be chosen based on that same color scheme.
Gone are the days when your wedding cake had to be plain white. Chocolate wedding cakes are becoming very popular, not just for the cake itself but for the icing too. Between the layers you're not just limited to the same frosting that's on the outside of the cake... you may opt for a delicious raspberry glaze instead! There are so many options to choose from. Talk to your fiance and see what they've got in mind for the wedding cake, and come up with something that pleases both of you.
There are many themes to choose from when it comes to wedding cakes, and most experienced wedding cake bakers will be able to craft something with the motif that you desire. Those who love the idea of a perfect Cinderella wedding may like a castle theme to their multi-tiered masterpiece. If you've having a wedding around Christmas time, you may want to have a cake done with snowflakes and mistletoe. A fall wedding would make an autumn leaves theme very appropriate. Perhaps you like the look of smooth fondant accented by a spray of beautiful flowers. Then of course you've got the option of a simple and elegant wedding cake done in the traditional style. The possibilities are nearly endless.
When visiting bakeries, be sure to ask them to see a portfolio of their wedding cakes. (Helpful hint: Remember that wedding cakes should be ordered three to six months in advance!) Seeing what they have done in the past will tell you whether or not they are the right bakers for you, and you may also get some ideas about what you want your wedding cake to look like. Taking an element from here and an element from there will help you to devise a design that's truly one of a kind and only your own!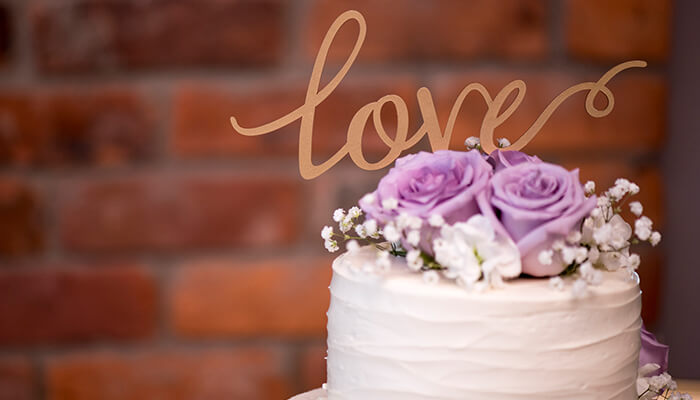 A sweet ceremony is perfectly topped off by an airy yet moist slice of heaven.
Southeast Michigan Wedding Cakes
There are many bakeries that specialize in wedding cakes in our area, and you can surely find many right in your neck of the woods. Here are a few of our favorites, dotted all over the Metro Detroit area. We highly recommend visiting several of them until you find the one that meets your needs.
Sweet Nothings has been tantalizing tastebuds since 2004, but their cake artists have more than twenty years of experience in bringing delectable fantasies to life. Their award winning bakers can create just about anything that you have in mind. You can see a large sampling of their work online at SweetNothingsFineCakesAndDesserts.com. They make gorgeous floral accents out of buttercream, gumpaste, and fondant, or you can even choose to have silk flowers or fresh flowers put on the cake.They can also do bows, cake jewelry, monograms, and even fountains! They're located in Lincoln Park, and you can reach them by telephone at (313) 382-2253.
A truly creative place to order your wedding cake is Zingerman's Bakehouse. They use top of the line to make cakes that are as delicious to eat as they are good to look at! Everything is one hundred percent done by hand here. Nothing premade whatsoever. Our favorite cake flavor is hummingbird, which is pineapple, coconut, banana, and pecan. They also have a hazelnut meringue that's beyond delicious. The filling flavors are really out of this world... everything from Italian preserves in apricot, raspberry, plum, or blackberry, to chocolate mousse, to dark chocolate ganache, to ginger butter cream! And that's only the beginning. You can view their complete info at ZingermansBakehouse.com. You'll find them in Ann Arbor, and you can reach them at (734) 761-2095.
Gwen's Cake Decorating is a magical wonderland of delicious cakes and treats. If we had to choose a favorite on our list of wedding cake specialists, Gwen's would definitely take the top spot. Despite their incredible expertise, their prices are very affordable, and the options here are absolutely endless. They won the Bride's Choice Awards for 2010 from WeddingWire.com, and for good reason! You can view some of their very best creations at GwensCakeDecorating.com. Gwen's is located in Saline, serving Southeast Michigan including Livingston, Washtenaw, Jackson, Monroe, and Lenawee counties, plus the Southwest Metro Detroit area. You can reach them by phone at (734) 429-2039.
Another excellent bakery in Saline that specializes in lovely custom wedding cakes is Benny's Bakery. They can craft some of the most classic wedding cake looks, and put a modern spin on them to keep it fresh and exciting. These are definitely some of the best looking cakes we have ever seen, and some of the best tasting too! Take a peek at some of their most tantalizing taste creations at BennysBakeryCakes.com, or go straight to their flickr stream of wedding cakes, cupcakes, and cookie favors right here. You can reach Benny's Bakery at (734) 429-9120.
Cakes By Stephanie is southeastern Michigan's premier wedding cake designer, and she makes the most original and beautiful custom wedding cakes that you've ever seen. You can see some of her work at CakesbyStephanieMI.com, or skip right to the wedding cakes page by clicking here. You may reach her by phone at (734) 240-CAKE.
Conveniently located in Ferndale, Pinwheel Bakery is a place that we frequent regularly for their delicious muffins and scones, but their wedding cakes are truly incredible! You can view a slideshow of their amazing wedding creations on flicker by clicking right here. Their perfectly crafted accents are on a completely different level than anything else you have seen so far. Truly upscale, and truly impressive. You can reach this fabulous little Ferndale bakery at (248) 398-8018.
Ann Arbor's Cake Nouveau is a bakery that takes the art of wedding cakes seriously. They have the most expertise in crafting beautiful designs. Courtney Clark is the chef and owner, and she subscribes to the idea that cake design is one of the few art forms that uses all five senses. To view a wonderful gallery of the cakes that she has created, visit CakeNouveau.com. You'll find their new location in Ann Arbor, and you can reach them by telephone at (734) 994-4033.
While not quite wedding cakes, we couldn't leave this one off the list! At Champagne Chocolates you can get gorgeous little wedding cake truffles and other chocolate party favors for weddings. We fell in love with these little delectable treats, and their personalized boxes and logos are such a nice touch. Very romantic! You can see their creations at ChampagneChocolates.com. They're located in Mt Clemens and you can reach them by telephone at (586) 468-1170.
Try Detroit Wedding Cakes for additional resources.