Choosing the Right Wedding Florist
Choosing a wedding florist will be one of the easiest tasks on your list of things to do in preparation for your wedding day. There are florists on nearly every street corner, but of course there are certain ones that specialize in wedding flowers, and we'll provide you with a great list of Southeast Michigan wedding florists on this page. But before we do that, let's talk about some of the things you'll need to consider if you want to find the perfect florist for your nuptials!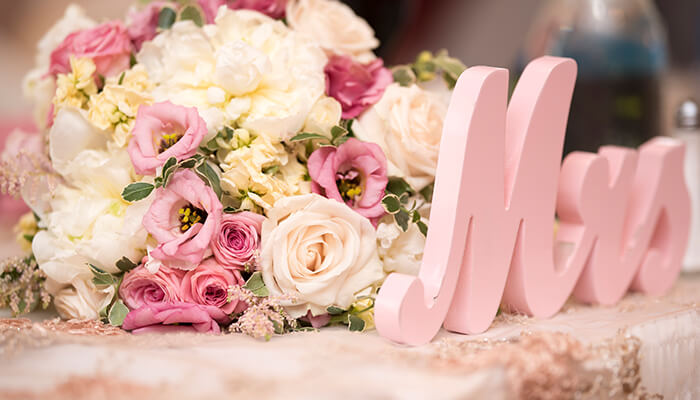 A lovely and memorable bouquet helps set the tone for the entire wedding.
First of all you'll want to find a florist that is near to both your wedding and reception venues. If money is no object, then you won't have to worry about this, but delivery fees can be costly! Besides that, the flowers will be much fresher if they don't have to travel a long distance to reach you.
Visiting the florists website and retail location will help you to determine whether or not they can create the look you're after. They'll have many arrangements displayed both online and in their store, and they should have a book of bridal arrangements for you to flip through. This will help you to get an idea of what type of bouquets and arrangements you'd like for your big day.
When deciding on color schemes and styles, you'll want to keep a few key things in mind:
Is your wedding going to be formal or informal? The most formal weddings require large bouquets with opulent blooms. Informal weddings or beach weddings would require something smaller and more subtle.
What is the color scheme for your wedding? You want to choose blooms that harmonize with the bridesmaids dresses and the table linens at the reception.
If your reception venue has an all-in-one package deal, flowers may be included with the catering package. Check with them to be sure. If so, you'll only need to visit a florist for bouquets and flowers for the ceremony itself.
Visit more than one florist to get an idea of prices and styles.
If you want to save money, ask which blooms are in season in your area. If you choose flowers that aren't in season, they'll be shipped in from other parts of the globe, and that will cost you extra.
If you'd really like to save a pretty penny on your wedding flowers, your neighborhood florist is your best bet. They'll charge much less than the ones that specialize in wedding flowers, and most likely you will end up with just as lovely of blooms. They'll also have more time and attention to spend on you.
Ask about flower preservation if you'd like to keep your bouquet for a lifetime. Some florists include preservation in their wedding fees, but others do not perform this service at all and you'll have to visit a floral preservationist.
Once you've settled on the styles and types of flowers that you want included in your bouquets and arrangements, you'll want to make sure that all of these are included in your package:
Bridal bouquet
Bridesmaids bouquets
Corsages for the mothers and grandmothers of the bride and groom
Boutonnieres for the fathers and grandfathers of the bride and groom, as well as for the groom himself and his groomsmen
Floral arrangements for the wedding venue
Centerpieces for the tables at the wedding reception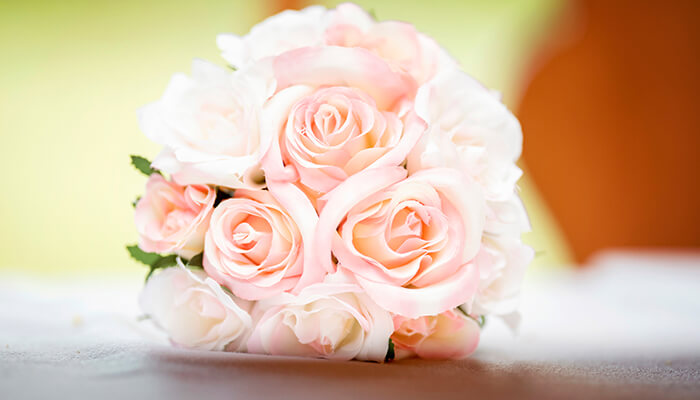 Choosing the right florist ensures fresh blooms and the perfect representation of your love.
Southeast Michigan Wedding Florists
In our quest to identify the best wedding florists in Southeast Michigan for you, we came up with a concise list of the best of the best. Some of these are independent floral experts who work from home, and others are large florists with retail locations. We recommend that you visit several of them before deciding which florist is right for you. Here they are:
Wedding Flowers by Heidi is one of our favorite sources for the finest blooms for your nuptials. Heidi has been in business since 1994 creating the loveliest wedding arrangements we've ever seen. She married and had two children soon after starting her business, and decided to run the business out of the comfort of her own home instead. Since 1999 she's been doing just that, and this allows her to give extra special attention to your wedding arrangements. You can see her beautiful arrangements and get more info at WeddingFlowersbyHeidi.com. She's one of our top choices due to her professional approach and expertise in arranging flowers. She's located in Plymouth and you can reach her at (734) 459-3160.
An excellent choice for your wedding flowers is Events by Creative Design. Their services aren't limited to just flowers... they also do event planning, chair covers, party favors, cake decor, candy tables, head table decor, centerpieces, arches, card holders, and more. This is a great one-stop solution for a truly beautiful wedding. You'll save both time and money by getting your flowers and your rental items in one place, and there's no more elegant source for them than Events by Creative Design. Find out more information about this company at EventsByCD.com. They are located in Macomb and can be reached by phone at (586) 744-8286.
For the Metro Detroit bride who likes a little sparkle in her wedding flowers, you may want to take a look at Flowers With Bling. This is a silk floral design studio that adds beautiful jewels and pearls to your arrangements for an extra special touch. Since they're silk flowers, they can be shipped nationwide and you don't have to worry about delivery fees or getting them to the chapel while they're still fresh. In addition to bouquets, corsages, and boutonnieres, they also do beautiful decor for bride and groom sweetheart tables, arrangements for the church and for the reception, and much more. You can see some of their beautiful work at FlowersWithBling.com. They are located in Southfield and you can book an appointment by calling them at (248) 747-3482, or toll free at (888) 421-6777.
Bells and Bliss is another full service wedding and events service company that happens to do excellent floral arrangements. We would highly recommend them for everything from wedding coordination to invitations, from programs and seating charts to chair covers. But of course their complete floral and decor design is what you're looking for, and they definitely deliver in this area. The wedding and event designer, who also happens to be the owner, is Misty Trompeter, and she will meet with you personally to design the wedding of your dreams. This company embodies professionalism and creativity, and we would highly recommend them for your special day. You can find out more information on Bells and Bliss at BellsAndBliss.net. You can reach Bells and Bliss by phone at (248) 914-5228.
If you would like to have silk flowers at your wedding, Enchanting Rentals and Silks is an excellent choice. They do more than just flowers. They have tall centerpieces, regular centerpieces, ceremony decor, and more. (Note: Though they have just about everything you need to create the perfectly enchanting space for your wedding, they do not rent chair covers.) To see some information on them right now, head over to EnchantingRentalsAndSilks.com.You can visit their showroom in Novi to get a great look at everything that they have to offer. To schedule a meeting with them, call (248) 348-3247.
Roses Are Red Events is an event specialist that does wedding decor and florals, and can also supply the flowers and decor for your bridal showers too. They do everything from bouquets and centerpieces to ceremony decorations, from chair covers and linens to wedding planning services. They aim to give you that "platinum look for less," while crafting decor that expresses your personal styles and tastes at the very same time. To see some of their beautiful creations, visit RosesAreRedEvents.com. Roses Are Red Events is located in Fraser, and you can call them at (586) 859-8419.
We're also big fans of Viviano Flower Shop. They've been making weddings beautiful since 1937. They've got a trained design staff that will help you to decide what you want on your wedding day. The options are endless and go so far beyond just flowers, with fountains, pedestals, money holders, arches, trellises, candelabras, and plants. See some of their work at Viviano.com. They even have full service deliveries where the staff assists in pinning on the corsages and boutonnieres, as well as teaching the bridesmaids how to carry their bouquets, and even helping the bride with her train while she walks down the aisle. Viviano Flower Shop has several locations to serve Southeast Michigan, in St Clair Shores, Shelby Township, and Chesterfield Township. All three can be reached by calling 1-800-VIVIANO.