Hiring a Great DJ for Your Wedding
Hiring a DJ for your wedding shouldn't be too difficult, but making sure to choose the right one for your special day is something that you shouldn't take lightly. There are certain things that you need to keep in mind when in the process of choosing a DJ. We'll go over a few of those points here in this article, and then we'll list a few of our favorite DJs in the Southeast Michigan area.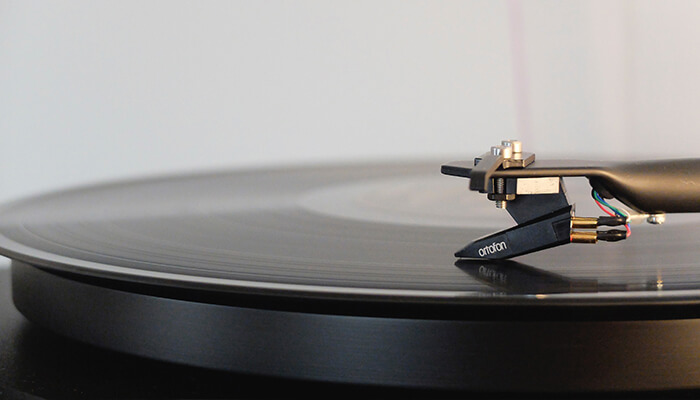 Getting the right DJ to spin the sounds at your reception can be the thing that makes the night the most memorable!
The first thing you need to know about meeting with a DJ is that they are often out working and may not be able to respond to your call immediately. It's great to give them twenty four hours to get your message and get back to you. When you do get on the phone with them, ask to meet in person and get a look at their equipment and music selection. It's important that you find a professional DJ who is organized and professional. Without meeting in person, you just never know what you're going to get.
Ask about how they handle weddings and how many of them they have worked at. Just because a DJ is good at other events does not mean that they are equipped to handle weddings. Every DJ's got to do his first wedding sometime, but do you really want your wedding to be his crash course? Make sure that he has handled a good amount of weddings in the past, and get references. Make sure that he's really as good as he says he is.
One of the bad things about booking a DJ is that it's very often the last thing that you do in planning your wedding. This means that you have spent a lot of money elsewhere already, and you're left with a small chunk of your budget to work with. For some couples this means choosing the DJ that offers them the lowest price, and that's not necessarily a good idea. If you've checked him out thoroughly, then you're good to go. But if you're going with this DJ sight unseen solely because of the price, you may end up disappointed with the results.
Here's a quick checklist that you can use to make sure that the DJ you're leaning towards is the right guy for the job:
First and foremost, make sure that you like the DJ. If he rubs you the wrong way from the first meeting, that's never a good sign. Choose someone who is friendly and who makes you feel comfortable. And most importantly, someone who is willing to show you their equipment (or at least pictures of it) and their music selection.
Get everything in writing. The prices, the type of equipment that will be used, the time that the DJ will show up and leave, and the policies in case he does not show up at all. No one wants to think about that type of thing happening, but thinking about it in advance and having a policy in the contract will protect you should something unforseen take place.
Make sure that the DJ's selection of songs will fit with the guests at your wedding and their taste in music. Top 40 seems to be the popular choice at most weddings, but if your crowd all loves rock or R&B then why not cater to that? Let the DJ know your tastes in music ahead of time.
Here's a big one: The most common complaint about the DJ industry is that the DJ that shows up to play your event is not the same person that you interviewed. Ask this question during the interview and make sure to have it in your contract that it will be the same DJ. This is the only way to protect yourself from this.
Be sure to ask yourself if this DJ is capable of being the MC at your wedding. He should be able to keep the music flowing all night and be able to motivate your guests to get up and dance!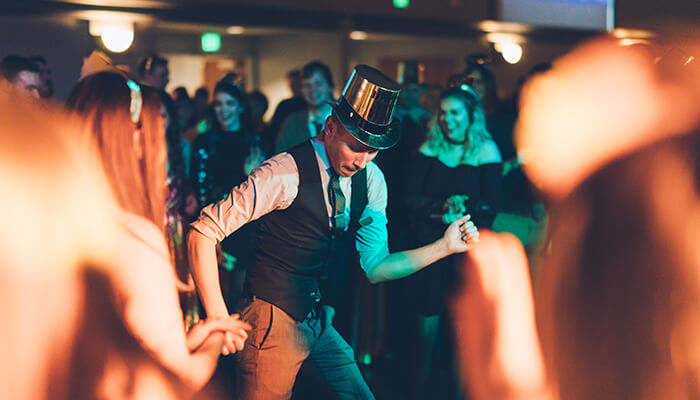 An impressive selection of music is one of the most important things for a great DJ to have.
Southeast Michigan Wedding DJs
Though Metro Detroit boasts many DJs who are great at weddings, there are a few who we definitely recommend above all the rest. Use this concise list to contact and interview a few different DJs until you find one that meets all your needs:
The most professional DJs we have ever met is Madman Mike. He is hands down the first DJ you want to contact. He books early though so if you put it off and cant book him theres listings of more DJ's. There are a million reasons to hire this DJ with more than twenty five years of experience, but in this paragraph we'll give you a few of the best. Mike does not invite "observers" to your reception (there is lots of information on this practice on his website). Mike is always the DJ--no subcontractors or trainees. He always brings backup equipment. He's a full-time DJ and he only books one appointment per day so you get his full attention. He focuses the reception on the bride and groom, never on himself. He has flat rates and a simple contract. He has DJ liability insurance, which many banquet facilities require. He does not advertise during the reception. He has over 60,000 songs at his disposal, updated every week. He brings more than a thousand CDs to each reception, and he also has wifi access to iTunes and Napster at most locations so he can buy new songs for requests right there at your wedding. Want to find out more about this great DJ? His website is MadmanMike.com and you can reach him at (248) 355-0863. He requests that you state your name and number with area code twice, and leave information about the event date, the city it's in, the type of event, and the music desired.
Happy Hour DJ Service featuring DJ Eddie is one of our top choices. With over fifteen years of experience and nothing but one hundred percent positive customer feedback, we've always been able to rely on DJ Eddie for all of our events. You may have seen him doing his thing at The Dearborn Inn, The Inn at St John's, or The Southfield Westin. His website has a convenient feature where you can check and see if he's available for your date. This is a one-man show that you can rely on. He's not booking various DJs and different types of equipment, he's just taking care of his own excellent services and doing a very good job of it. He's very clear on his site about what he can and cannot do. For your once in a lifetime wedding, you cannot choose a better DJ than DJ Eddie. You can call him at (810) 343-0194 to schedule an interview or book your date!
Another excellent DJ service in the Metro Detroit area is Mike Staff Productions. You may recognize that name. Mike Staff was a very popular DJ on WRIF. His DJ business has been going strong since 1986 and it's been voted "Best DJ Service" by Michigan Brides. They actually offers a multitude of services beyond just DJing via his website, including photography and videography. They aim to create the night of your dreams at a price that you can afford. They're there for the planning process, coordinating the evening's events, and learning everyone's names so they can pronounce them correctly and introduce you with class. Mike's DJs know how to read the energy on the dance floor and play just the right song at the right time. That's a skill that too few DJs possess! To find out more about this DJ service, just head over to MikeStaff.com or give them a call at (248) 689-0777.
Full Effect DJ Service is run by Robert Navarre who is the one and only Michigan DJ who has headlined at The Palace of Auburn Hills! He's based in Auburn Hills but will travel up to one hundred miles for your event. One of his clients is Kid Rock, so you know that he knows how to keep the party going. He's won two Detroit Music Awards and he's a recording studio engineer, and he has worked directly with some of your favorite stars including Aerosmith, Janet Jackson, The Rolling Stones, Madonna, and Bruce Springsteen. Have we said enough? I think so. To check out the full info on this DJ of a million talents, just head over to KeepYourPartyGoing.com or give Robert a call at (248) 334-1781.
Based in Ann Arbor, Dynamite DJs has excellent lighting, many years of experience,and three different packages to suit any event including your wedding. They'll travel as far as one hundred miles out of Ann Arbor for your event, and there are no travel fees whatsoever. They allow you to customize your event down to the final detail. You can choose the song for the bridal party to walk in to, the song for the first dance, the songs for the father and daughter and mother and son dances, and of course a list of favorites that must be played at some point during the night. We love the fact that they ask you to provide a "Do Not Ever Play" list of songs that you absolutely do not want to hear during your wedding. Everything is one hundred percent professional when you hire Dynamite DJs. You can find out more information and request a free quote at GigMasters.
E.S.P. DJ Service has been going strong in Taylor since 1990. That's over twenty years of providing the soundtrack to weddings. They're a member of the American Disc Jockey Association, and they specialize in weddings. You can trust these expert DJs to get your reception guests on their feet and keep them moving all night long. They've got great deals where you'll save a large amount off their normal rates, especially if you go through their GigMasters page. This company will travel up to sixty miles outside of Taylor.
The Sterling Heights based Galaxy Productions has been in business for close to twenty years. They do all types of events including weddings, and they will travel up to 70 miles outside of their area. They play a wide variety of music and are happy to work with your requests as well as your wishes not to play certain types of music or certain songs. You can find out more information about Galaxy Productions and request a free quote at their GigMasters page.