Choosing a Photographer for your Michigan Wedding
When choosing a photographer and/or videographer for your wedding, there are several things that you'll want to keep in mind. There are questions that you'll want to ask upon meeting them for the first time. You don't want to skimp on double checking everything here. The photos and videos will be a lasting monument to your union. These will be the memories that you'll share with your children and your grandchildren. You want to be absolutely certain that you're hiring someone who will get the job done right. So let's go over a few of the things that you'll want to talk about with any potential photographers that you speak to.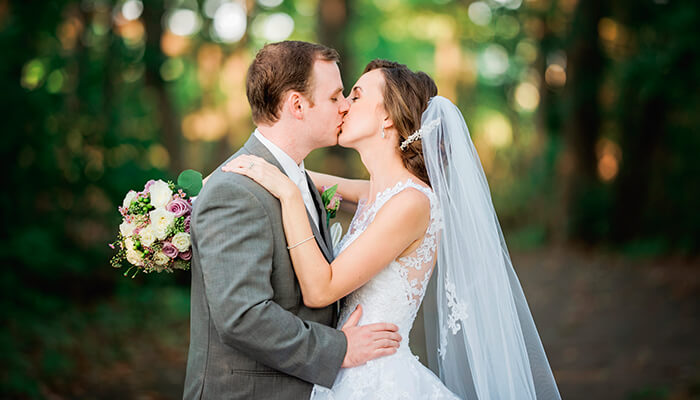 A professional photographer knows how to compose beautiful shots and capture authentic moments of love at the very same time.
Clearly the first thing you want to decide is whether or not to hire a professional photographer and videographer. Most likely since you're on this page, you have already decided to go with a professional. Many of our friends have hired other friends who are handy with digital cameras and video cameras to do their wedding photography, and they have been happy with the results. But even if you opt for that, you still want to take a good look at this person's past photos and videos, and make sure that they really do have what it takes to capture those special moments.
You can't skip this step even with a professional though. You'll want to find out how long they have been doing wedding photography, how many weddings they have worked at, and whether or not this is their source of full time income or if it's just a part time hobby. Find out if they've ever shot a wedding at your venue before. If they have, they're more likely to be familiar with the best places to take photos and how to achieve the best lighting.
The answers to those questions will definitely help you to get an idea of whether or not this is the right wedding photographer for you, but even more important than getting those answers is to see some of their work. Their office may display a few of their best shots, but ask to see more. If they are as good as they claim to be, they'll have a sizable portfolio of gorgeous pictures to show you. If you're impressed, then you know you are headed in the right direction.
Beyond photo-taking skills, you'll want to find out what their style is. Do they do mostly black and white? All color? If you want one or the other, or a mixture of both, make sure that you are clear on that with them. Some wedding photographers have a very formal style, while others specialize in more candid shots. Get information from them on what they like to shoot best, and be very specific as to what you want.
Beyond photo-taking skills, you want to make sure that your photographer is someone that you have chemistry with. If they take mind blowing photos but you don't trust them or feel comfortable around them, you aren't going to end up with the perfect photographs that you desire. There must be a good rapport between the wedding party and the photographer. This is a great reason to have references. If you know people who have worked with this photographer in the past, you have a clear record of satisfaction.
Ask about prices and be crystal clear about what you can afford. You'll want to know about the prices for reprints and albums, and also how long it takes to get your proofs, thank you cards, wedding albums, and bridal portraits. A disagreement about price later in the game will leave a sour taste in your mouth, and you don't want that negativity clouding your special day. Make sure that everything is discussed and finalized from day one.
Find out if the photographer has backup equipment in case his or her usual equipment happens to fail. Ask if they have an assistant. Find out what time they will arrive and how late they will stay. If your reception goes late into the wee hours of the morning, and you want photographs of all of it, make sure that your photographer is aware of this and agrees to it! Ask when the proofs will be ready and whether or not you get to keep the proofs and/or negatives. You may also want to ask how they mark the proofs and if it costs extra for unmarked proofs.
Most importantly, read your contract. Find out about deposits and when payments must be made. Find out what their policy is on cancellations and what happens if the photographer doesn't show up. (It sounds like a nightmare situation but it has happened!) Make sure you get a cell phone number where the photographer can always be reached, and give him or her a cell phone number where you can always be reached too, just in case something does happen between now and the wedding. It's better to be safe than sorry.
Additionally you'll want to make sure that all of these things are included on your contract:
The photographer's full name, address, and phone number.
Your full name, address, and phone number.
The names, addresses, and phone numbers of all ceremony and reception venues.
The time that the photographer will arrive and depart.
The amount of proofs you will receive and whether you'll get to keep them.
A complete and detailed description of the photography package that you chose.
A complete list of guaranteed prices for enlargements. Many photographers have their prices listed in a brochure. If this is the case, make sure it's stated on your contract that the prices in that brochure are the prices that you'll be charged, along with the cutoff date for those prices.
Make sure that all costs are included in the contract, including travel, services, and taxes.
Again, be sure that there is a clear policy as to what happens if there is a cancellation on your part or if the photographer does not show up.
Southeast Michigan Wedding Photographers and Videographers
We've got a great list of wedding photographers in Southeast Michigan, each with their own style and expertise. We recommend that you interview with several of them to make an informed decision as to which one is right for your wedding. Here they are:
Green Holly Weddings is our preferred vendor for photography. They are by far the best company we have worked with in the metro Detroit area. . You only have one chance to capture the moments for your wedding day, unlike the cake or flowers your photographs will stay with you for the rest of your life. If you hire someone you can trust it will remove your stress for the day and let you enjoy your wedding. We can recommend the perfect company to do that for you, Green Holly Weddings!

Green Holly Weddings is affordable, reliable, and most important trustworthy! You can do research online (as you should do with any company you hire) and find that people have nothing but good things to say about them. Holly Green the head photographer graduated from CCS with a bachelors degree in photography and has been in the business for nearly 10 years.
Green Holly Photography
569 Chippewa Street
Mount Clemens, MI 48043
(810) 265-2727
greenhollyweddings.com
J.S. Photogaphy is based in Metro Detroit but travels statewide for weddings and events. They've been running their successful photography business for more than ten years, and their wedding photographs are unrivaled in style and beauty. They really know how to capture the most beautiful moments of your special day. You can view their incredible work and request more information on their services at PhotosbyJS.com. Reach them by phone at (586) 350-5837.
One of our absolute favorite choices is Elayne Gross Photography. Elayne is an incredible photographer who does many types of events but has a special flair for weddings. You can see her portfolio and galleries on ElayneGrossPhotography.com. (Tip: You can see a few wedding photos in the gallery section and several hundreds in the portfolio section.) Her ability to capture those special moments in both black and white and color is unrivaled. Careful use of soft focus gives a hazy romantic glow. Elayne is located in Oak Park, and you can reach her at (248) 543-4090.
Precious Memories Photography has their own "cinematic style" of wedding photography, which we think is just perfect for the modern bride and groom. You'll feel like you're the perfect Cinderella bride and your groom is the one and only Prince Charming. They do color, sepia, black and white, soft edges, double exposures, soft water colors, and much more. They've got the high tech expertise to add special enhancements after the fact, and they can work with your tastes whether you prefer journalistic shots, candid ones, or something more creative. You can see their work at PreciousMomentsPhotography.net. They're located in Canton, and can be reached at (734) 927-1200. Ask for Basel.
Artisan Photographic has a very classic and elegant approach to photographs, doing many shots in both black and white and color. They have a real gift for capturing those special moments and setting up beautiful and breathtaking shots in the best locations. They have a very extensive portfolio of shots for you to view at ArtisanPhotographic.com, including pricing information and online ordering. They're located conveniently in Royal Oak, and you can reach them by phone at (248) 850-7091.
If you want your wedding photos to have a mix of fashion photography and photojournalism, of course with a touch of classic, you will really love AAVA Studios. They do both photography and videography, and they have amazing album packages that range from the traditional to the most modern available. There's nothing like having a wedding album that is truly one of a kind. You can see some of their work at AAVAStudio.com. Many of our friends have hired AAVA Studios for their Michigan wedding photography, and they've all been incredibly satisfied with the results. You will find this one in Berkeley, and you can reach them by telephone at (248) 544-8885.
WP Photography has a style that's unmistakable. They blend the classic with the cutting edge to really capture what's special about your relationship. Some of the best wedding photography we have ever seen has come out of WP Photography's studio. You can see many examples of their fine work at WP-Photography.com. They do both black and white and color photography, but some of our favorites are the photos that mix both into one image. That is truly breathtaking. WP Photography is located in Livonia, and you can call them for more information at (734) 953-7100.
For the couple that is truly modern and wants something different for their wedding photos, we would definitely recommend Visual Poetry. Just one look at their portfolio on jenkniivila.com says it all. These are ultramodern shots that no other wedding photographer is able to capture. They've got customized packages for any budget, and they always include an engagement session, which is a great bonus. You can reach Visual Poetry at (734) 231-1588.