The Best Michigan Wedding Transportation
Traditional wedding transportation just doesn't cut it for your big day. You want comfortable and spacious transportation that allows you to bring your entire wedding party in one vehicle. The only kind of transport that allows you to do this is a party bus! After many years of weddings, bachelor and bachelorette parties, plus bridal showers, there is only one party bus company that we recommend. Party Bus Detroit.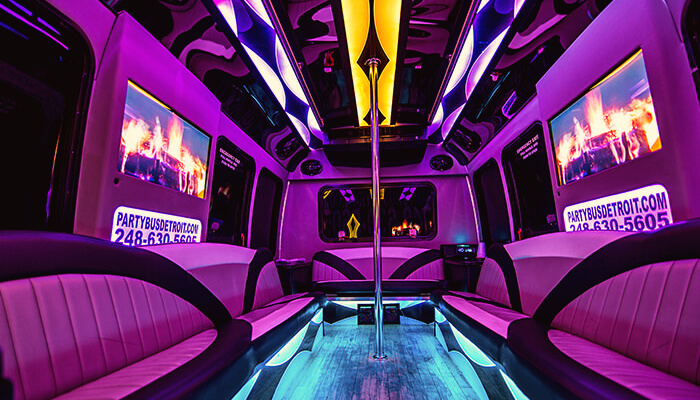 The happy wedding party traveling together and keeping the party going while they're on the road!
The reason that we recommend Party Bus Detroit so highly is that they have party buses and limo buses that are stocked with all the extras that you deserve, plus friendly licensed and insured drivers that ensure that your night is wonderful and safe. When you're transporting your closest relatives, loved ones, and friends, you want to make sure that they are completely safe and secure. This way, none of you will have to worry about a designated driver, nor will parking be an issue.
Of course one of the biggest perks of renting a party bus or limo bus is the wraparound seating that allows you to carry on those memorable conversations between your wedding and reception venues. You can even crack open a bottle of champagne on the way, since you are allowed to bring alcohol with you onto the bus. There's plenty of room for any decor that you may need to bring with you from the church to the reception hall. And that's not all...
There's a state of the art sound system, CD/DVD/iPod player, and flat screen TVs for your entertainment. They have acrylic bars with coolers and lighting to keep your drinks cool on the road. Fine leather seating will keep you comfortable, and fiberoptic lighting provides low-key ambiance at night. Tinted windows are a must for privacy, and the wood floor makes for a makeshift dancefloor!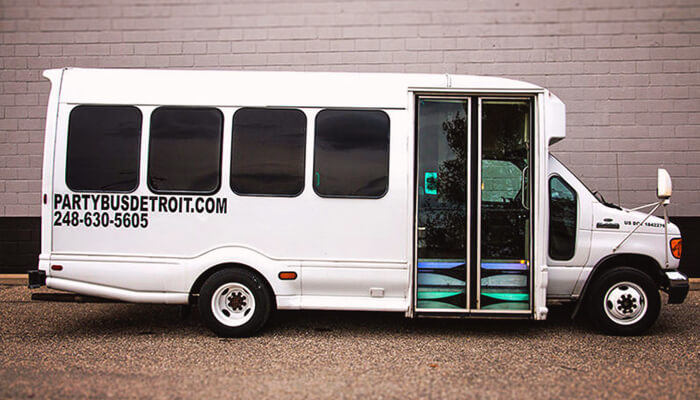 Regal and white, perfectly coordinated with your wedding attire!
One of the greatest things about Party Bus Detroit is that they are available 24 hours a day all year round. Even if you're getting married on Christmas or New Year's Eve, you'll be able to rent one of their party buses or limo buses to transport you on your big day in style. One plus that we love is that if your pickup and dropoff locations are within fifty miles of Livonia, you'll have a one hundred dollar service charge waived. That's a giant savings.
Many other companies hire ordinary drivers who are not trained properly and are not insured. They don't tell you this, even though your safety is in their hands. Party Bus Detroit hires only professional chauffers. They face a very detailed screening process including drug tests and background checks. They're given sophisticated GPS systems to ensure that they arrive at your destinations on time and via the best routes. Best of all, they have a five million dollar liability insurance so you are completely protected in any situation.
We've worked with Party Bus Detroit many times to provide transportation for our friends' and familys' weddings, bachelor parties, bachelorette parties, and even bridal showers. We've had nothing but positive experiences with them, and that's why we recommend them so highly. No one else provides such clean and comfortable atmosphere, such friendly and careful drivers, and such a fun experience on the road. To find out more about them and to book your party bus for your once in a lifetime wedding, just click here. Check our Detroit Wedding Information page for more info on weddings in Detroit.
click here to book your wedding transportation with Party Bus Detroit