The Most Elegant Wedding Venues in Southeast Michigan
If you're tying the knot in Southeast Michigan, you probably already know that you have a wide array of wedding venues to choose from in and around the Detroit Metro area. From your local church to grand downtown hotels... from lovely inns to little wedding chapels. There are so many beautiful spaces that are available to you. We at MichiganWeddingPlan.com have attended numerous weddings at many of the locations detailed on this page, and have received glowing recommendations from our friends on all the rest. First let's talk about some of the things that you should consider when choosing a Michigan wedding venue, and then we'll go into further detail on the specific locations that are so popular in our area.
The first question that you want to ask yourself when choosing a wedding venue is how many people will be attending. Will there be more people at the wedding itself or will you have a larger crowd at the reception? If you are having a small gathering, you don't want to book the largest venue in Detroit. And more importantly when having a large crowd, you want to make sure that there is enough space for everyone to enjoy themselves comfortably.
Many people marry at a church and then travel to a hall for the reception, but a wonderful option is to hold your wedding and reception in the same building so there is no in-between transit time whatsoever. This is possible at venues like The Masonic and The Dearborn Inn, which have space for the wedding itself and very elegant ballrooms for the reception.
If you do have to travel in between the time you say your vows and the time you cut your wedding cake, you'll want to arrange transportation that is both comfortable and fun. Renting a limo bus or party bus is your best bet. Packed with fun features like flat screen televisions, stereo sound systems, and wraparound seating for easy conversation, you'll be able to take a large group of friends with you and keep the party going while you're on the road.
Let's get a look at some of our favorite Michigan wedding venues...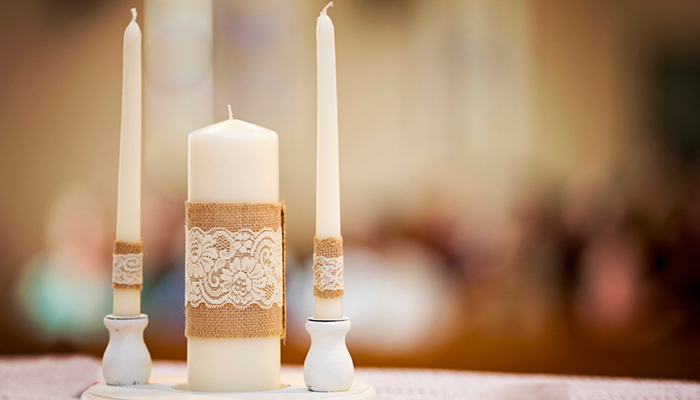 The perfect setting for your vows will make the moment even more magical..
Southeast Michigan Wedding Venues
We're big fans of The Dearborn Inn, which is conveniently located for most of your guests. If they're heading in from the airport, it's just a short twenty minute drive via I-94. If traveling to Dearborn from the downtown Detroit area, they can take either I-75 or I-94. And if any of your guests live downriver, it's just a quick ten minute drive down M-39/Southfield. If you're not familiar with the Dearborn Inn, it's now a Mariott hotel, but this historic hotel has been in operation since 1931. It's set on an amazing twenty three acres where you can have the most beautiful outdoor wedding ceremony that you could ever imagine.
With over two hundred guest rooms at The Dearborn Inn, you don't have to worry about accommodations for all of your out of town guests. We love the bridal party's hospitality suite, and the bride and groom will both enjoy accommodations at no charge, a bottle of chilled champagne, centerpieces, linens and decor, decorated tables, cake cutting service, dance floor, ice sculptures, wedding cakes, chocolate fountains, valet parking, and more. This is our top choice for a full service wedding with all the perks and none of the stress. You'll find The Dearborn Inn at 20301 Oakwood, and they can be reached at (313) 271-2700, or online here.
Possibly the most elegant downtown location for a wedding is The Masonic. With even more historical richness than the previously mentioned venue (though it's a close race!), The Masonic is nothing short of majestic. They have a Bride's Room and a Groom's Room where you and your husband-to-be will be able to prepare for your once in a lifetime exchange of vows. You'll exchange those vows in an historic chapel that seats over four hundred people. And possibly the best perk of all is that you won't have to travel to your reception, since you can have it in their gorgeous Crystal Ballroom. It's impossible to describe the beauty of this venue. We recommend a tour so you can see it for yourself. You can find The Masonic at 500 Temple, and their phone number is (313) 832-7100. You can find them online right here.
If you're seeking a really upscale downtown hotel in which to hold your wedding reception, the Hotel St Regis is an excellent choice. If your party will be large, this is almost an essential, since they can easily hold up to eight hundred guests. Even the hospitality suite can easily hold up to sixty people, so if you've got a large family that will be buzzing in and out during the wedding preparations, this is nothing short of perfect. The ballroom is still perfect for smaller wedding parties, because they can easily divide it into smaller rooms that can hold as many as seventy five guests, or as few as ten. Their location at 3071 West Grand Boulevard is easy for all your guests to find, and they can be reached by telephone at (313) 873-3000. For their location on the web, click here.
Another beautiful setting that lies on twenty two private acres is The Fairlane Club. It's conveniently located in Dearborn, and they've got space to hold as many as five hundred wedding guests. Our favorite feature here is the private dining rooms which have really breathtaking views and fireplaces to keep everyone warm in the colder months. Perfect for a holiday wedding! We fell in love with expertly manicured grounds when we attended several weddings here last year, and of course you can't beat their superbly friendly staff. You can find out more about The Fairlane Club by visiting their website here, calling them at (313) 336-4400, or taking a personal tour at 5000 Fairlane Woods Drive.
Another location where you can have both your wedding and your reception is 30 North, located a little further north, in Pontiac. You can seat up to three hundred guests in the newly remodeled chapel, and the reception area can hold a staggering nine hundred ninety people. There are two separate floors here, and what's great is that you can rent one or both. The decor here is top notch, from ornate ceilings to balconies with breathtaking views. The staff here really puts in the effort to ensure that you and your guests have the best time possible. 30 North is located at 30 North Saginaw in Pontiac, and you can reach them by phone at (248) 335-6803. Their website is right here.
If most of your guests are coming from western Wayne County, Oakland County, or Washtenaw County, you may want to choose a location that's a little further west. Laurel Manor in Livonia fits the bill perfectly, and it also happens to be one of the most elegant locations you could ever choose for a wedding. We've attended several weddings here, and we're always impressed with their wonderful staff and delicious banquet offerings. From the moment that you first step through the door and take in the decor of their marble lobby, you will fall in love with this place.
There are several ballrooms to choose from at Laurel Manor, from The Manor Ballroom (which holds as many as fourteen hundred guests), to the Aspen Room (which can accommodate nearly three hundred), to the Maple room (which is good for smaller parties of up to one hundred and forty). The beautifully manicured grounds make an elegant setting for photographs as well, and you get your choice of ice sculptures too. If you're considering this incredible location for your nuptials, you can find Laurel Manor at 39000 Schoolcraft. Call them up at (734) 462-0770 for more information, or find them on the web at this link.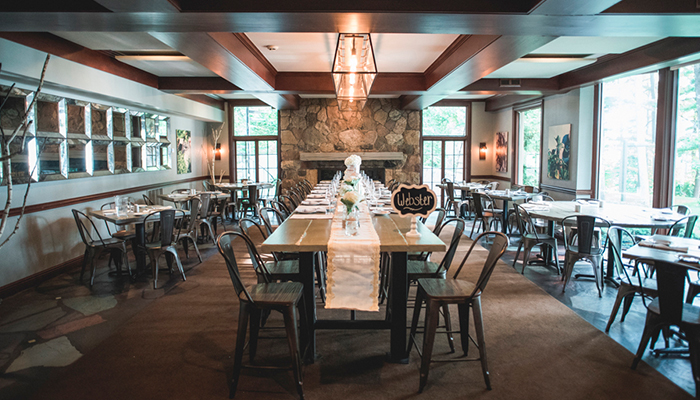 A beautifully set reception will make both the couple and their guests feel good.
Some of our closest friends have chosen The Little Wedding Chapel for their special day, and they're very popular too, having been featured on national television on both CBS and CNN. If you've got a smaller guest list, you will find that this is the best place, and the most cozy and intimate, for your needs. There are three locations and three distinct styles, so no matter what kind of bride you are, there is one that will suit your needs perfectly. Two locations are situated downriver in Taylor and one is in Fraser. You'll be able to choose from Lakeside or Victorian decor depending on which location you pick.
The Little Wedding Chapel also provides you with a wedding consultant, a private bridal room where you can get beautiful for your vows, a nondenominational minister, a rehearsal, and a candlelit ceremony in their private and cozy chapel. They will also play the wedding music of your choice. You'll find the Taylor locations at 8357 Telegraph and 12415 Pardee, both at (313) 292-3030. And the Fraser location is at 15215 13 Mile, at (586) 293-6760. You can find out more about all three locations on their website.
The MGM Grand Detroit is a very opulent place to hold a wedding reception! So many of us head to this downtown casino for drinks and gambling, without ever realizing that they've got a massive thirty thousand square feet of event space, including a ballroom that seats up to eight hundred wedding guests. If you've got a smaller group attending your reception, you may want to rent space in one of their lounges or restaurants instead. One of the best parts about booking your reception with MGM Grand is that you can handle most of it online. At their website you can submit a form requesting information for the date of your choice. You'll find this golden reception venue on 1777 3rd Street, and you can reach them by phone at (313) 465-1777.
Envy is a hot nightclub located conveniently near Cobo Hall, and this is a very popular destination for world famous stars and athletes. We love this nightclub as a reception space, particularly for the couple who wants something more modern than the receptions that many of their friends have had. They've got multiple levels, a full bar, a dance floor, a high-tech sound system, a light show, and a live DJ who will keep the party bumping all night long. We love the flatscreen TVs that are dotted throughout both levels of the club, and behind the bar is a really gorgeous waterfall backdrop. You'll be the envy (pun intended) of all your friends if you choose this club for your wedding reception. You can find Envy at 234 West Larned, and you can reach them by phone at (313) 962-3689. Visit their website here.
If you're looking for Detroit Wedding Locations or Detroit Wedding Venues for your Michigan wedding or a place for Detroit Wedding Receptions we have you covered. If you're not in the Detroit area and are still in Michigan we have more resources for Michigan Wedding Locations.